It's time to wave goodbye to 2022, and WOW – what a year we're leaving behind! A lot has happened around the world, affecting trade in several ways. There have also been significant changes at Rule, internally and in our platform, things that we can look back on with pride. But before we close the door on 2022, let's look back briefly and summarize the year at Rule.
The Rule continues its growth journey internally and in our customer base. During the year, we have gained the trust of companies in different industries to help them succeed with their digital communication We also continue to challenge the norm and always strive for the best results to constantly meet our customers' needs.
Rule became a Gasell company 2022
Every year, Dagens Industri appoints the fastest growing companies in Sweden as Gasell companies, and in 2021 it was Rule's turn to become one for the first time. We received our second Gasell prize with joy and pride when we were named a Gasell company again in 2022. The Gasell survey ranks Sweden's most successful companies, and the fact is that less than 1% of Sweden's limited companies meet the requirements to be called a Gasell company. Therefore, this again feels full of glory, and we are incredibly proud of our journey.

We stand behind the GDPR.
In 2022, GDPR will be a hot and central topic, not only around Europe but also here. We've talked a lot about the importance of owning your first-party data to be able to communicate on the customers' terms and to be able to deliver tailored messages. Far too many companies with a European customer base still use American suppliers for their digital communication, which means a risk to customers' data and privacy.
During the year, we have highlighted several customer cases where several large companies' lawyers advised against using American suppliers. Many companies need to learn about the risk of using American suppliers and why you should use a GDPR-safe platform like Rule if you have European customers. We are proud to be able to guarantee that our data handling is fully GDPR compliant and that our customers can feel safe using us.
Updates and improvements in the platform
This year has gone by at a breakneck pace regarding updates and improvements to the platform. With a close-knit tech team and customer requests, we have built dream-like solutions in our platform. We could call 2022 the year of releases. Below you can see why:
Rules standalone SMS service
One of the year's biggest launches is Rule's standalone SMS service.When we saw a great demand to use a standalone service for SMS only, we created a unique SMS subscription. Rules' SMS service can therefore be used independently, regardless of whether you use another existing platform for digital communication and CRM. It also gives you, who are stuck with other providers, the opportunity to communicate via the most converting channel, SMS.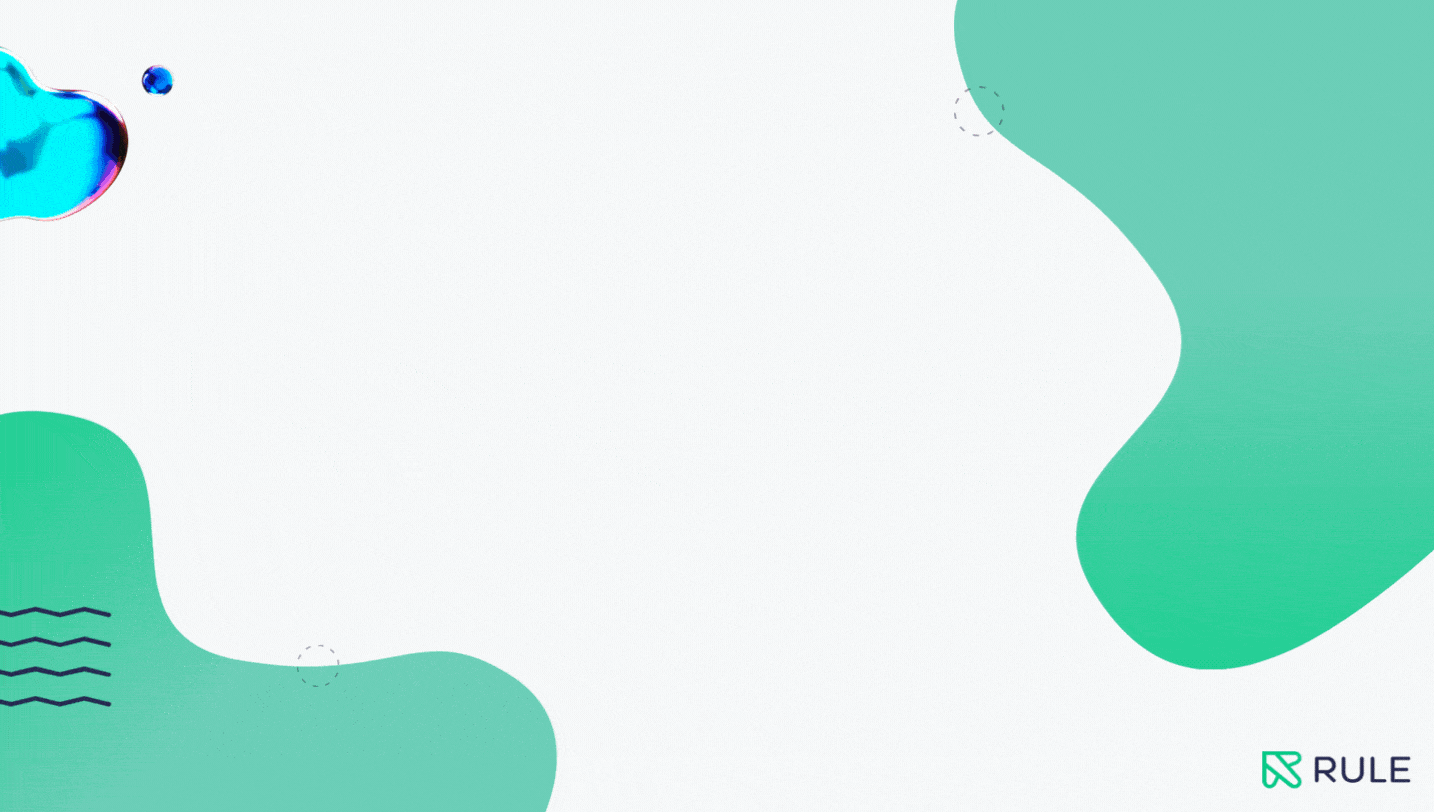 The next big release this year was when we launched SMS in Journey Builder,which many customers long awaited. By including SMS in your communication, you can reach more customers, increase the number of conversions on your campaigns and encourage them to make more purchases. With SMS in Journey Builder, you can now expand your communication flows by including yet another channel and supplementing them with customized content for the recipient.
We have developed a connection to Facebook that makes it easier for you to increase your customer base and reach potential customers faster. With a simple push of a button, you can now upload your active members inside Rule directly to Facebook. It enables Rules' new integration into Facebook Custom Audience. Now you avoid all manual steps when creating custom target groups on Facebook.
It is not only Facebook that we have built a new, excellent connection to, but also Google. With Google Ads Audiences, you can engage your customers in several channels and reach out to new prospects. Through Google Ads Audience integration, you can create target groups in Google Ads with a simple push of a button based on your existing customer data collected in Rule. It gives you endless opportunities to reach a wider audience and prospects similar to your current customers.
Preferences for email 2.0
In 2021, we launched email preferences.. A feature in Rule allows your subscribers to decide for themselves what messages they want to receive from your company when you send them emails. This way, you can drastically reduce the number of unsubscribes from your mailings. In 2022, we updated this function, allowing you to administer your different preference groups more quickly and easily. You immediately see a draft of how your preferences will appear to your customers; editing them has never been more accessible.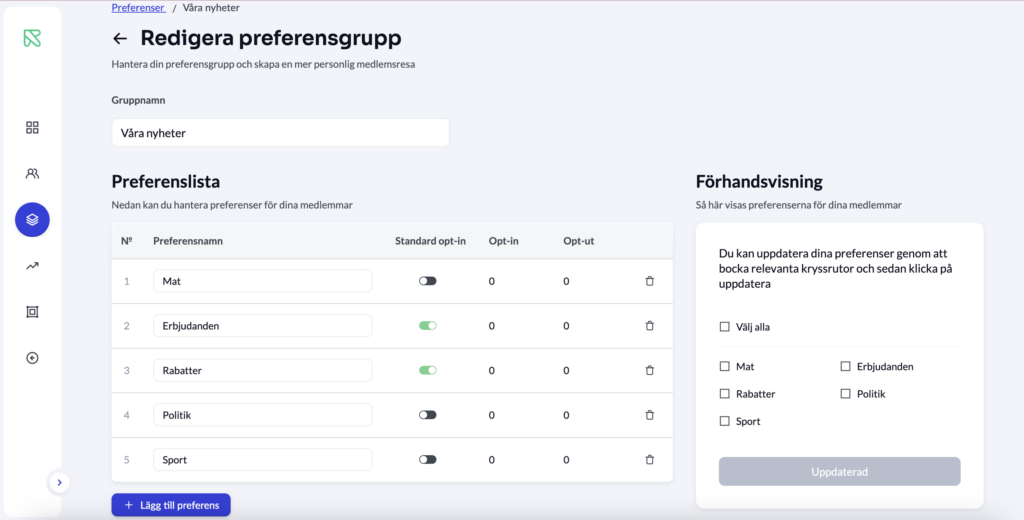 We released the function discount codes, which allows you to upload your discount codes in Rule easily and then include these in your mailings to customers. You decide for yourself how the design of your discount codes should look For example, they could be digital gift cardsa new customer discount, or why not unique VIP offers. With discount codes, you not only increase the chance of sales but also create loyal, returning customers.
Not long ago, we presented a new function that we chose to call Rule notifications for the simple reason that it is the Rule platform that communicates with the user. With Rule notifications, our users can stay up-to-date on events in the platform, for example if something in the platform should go wrong. This means that the user can quickly receive information about the error via SMS or email and thus remedy the error.
Design, branding & visual identity
In 2022, we've significantly updated our design and Rules' interface. Many of the decisions we have taken regarding updating and developing the platform are based on direct customer and partner requests. We have simplified existing functions and set up new ones to help our customers navigate the platform more quickly and easily create successful digital communication. You can expect even more design updates to the platform in the coming year, so stay tuned!
Updated view for members and Journeys
The Journeys and Members views are updates our users have seen on the platform. The update in your Journeys has allowed users to more easily navigate between their communication flows, or "Journeys," as we also call them, and administer these sections with messages – completely frictionless.
We also updated the view for members, allowing our users to quickly select their members in Rule. The customer cards are now more complementary than before, providing the user with a better overview and making them easier to work with.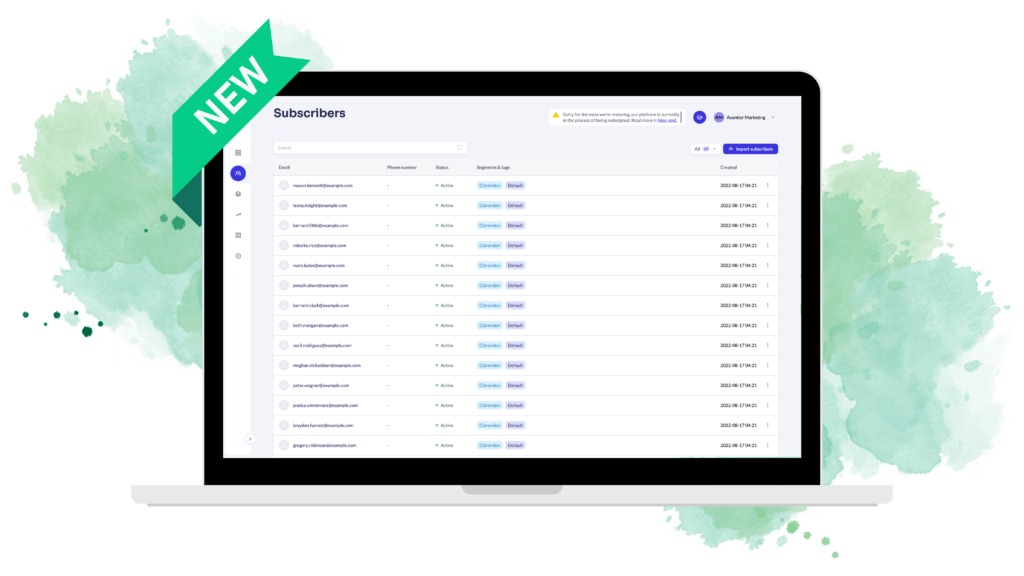 New home page on the website
It is not only the Rules interface that has been updated, but also our website. As many of you have probably seen, we updated our homepage during the autumn. In connection with the design of our app being gradually updated, it was also time for a lift on our start page to create synergy between the app and the website. The menu has been changed from a side menu to a header menu, and the app's functionality is now highlighted more clearly.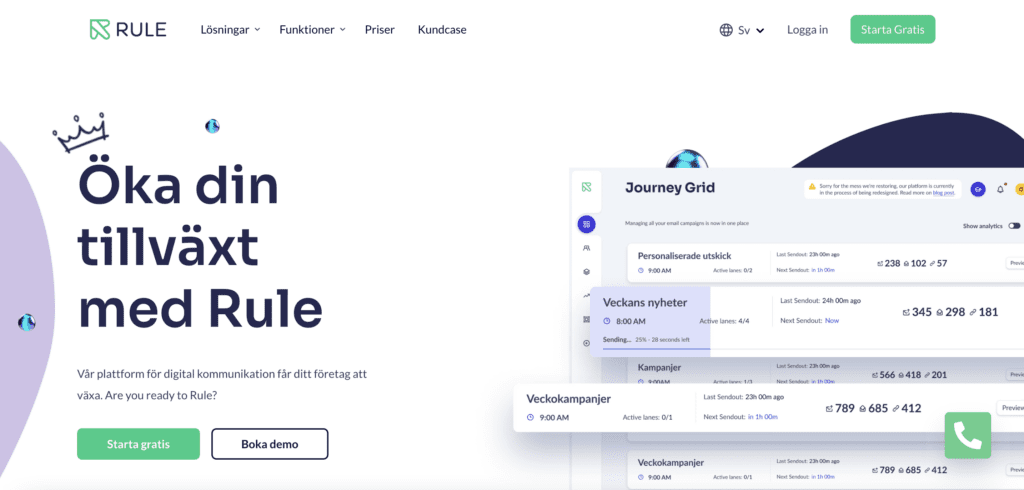 Partnerships and integrations
In 2022, we built integrations and standardized methods to create new connections between Rule and external systems. Mainly to facilitate the everyday work for our customers and allow them to collect their customer data on the same platform. Many of our partnerships and integrations have allowed us to reach customers and businesses in new industries, which is incredibly fun.
Fairs, events, and webinars
The year's first fair took place at Kistamässan, where we exhibited at the Mark tech expo 2022. This year we wanted to do something extra to stand out from the crowd, and we succeeded! We met many excellent customers, prospects, and partners during these days, and the fair, in general, was a success for us.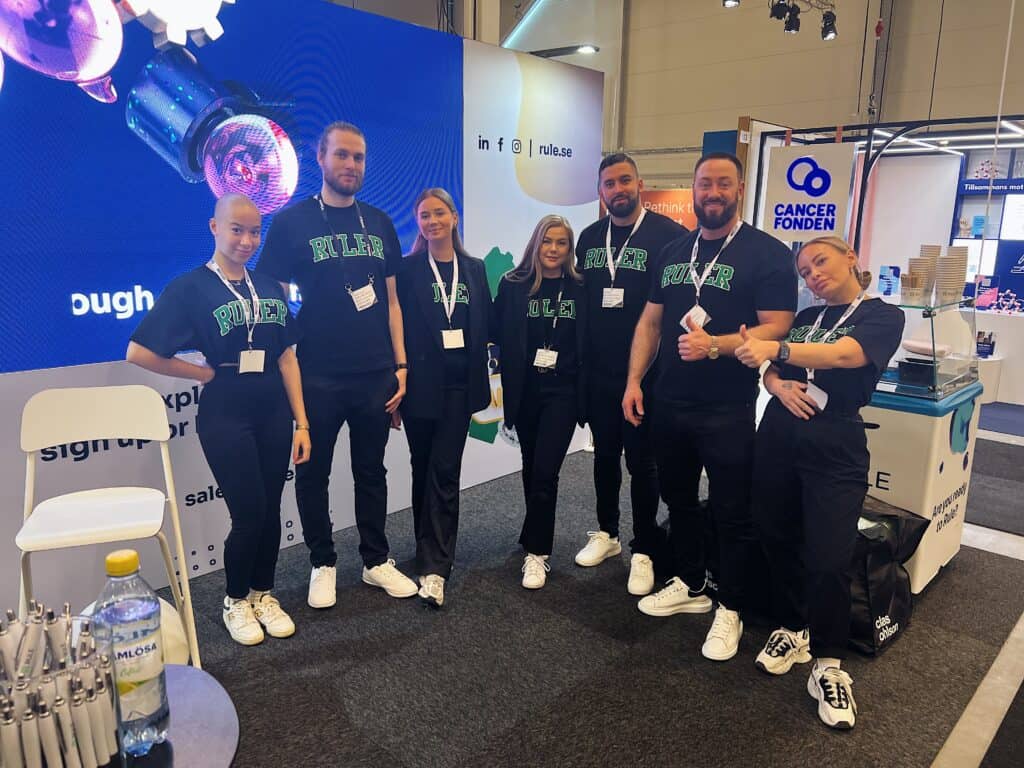 We took our Rule hoodies down to Gothenburg and also visited D-Congress 2022 as visitors this year. Once on-site, we met many partners and customers, which is always appreciated. These two days offered interesting conversations and panel discussions and resulted in new acquaintances, partnerships, and customers. However, we are exhibiting at D-Congress 2023 this spring, hope to see you there!
We took the Swedish Rule team with us at the beginning of autumn and headed to Copenhagen, where we had an incredible kick-off! Once there, we also met a part of the Ukrainian Rule team. During three busy days, we had workshops where we reviewed previous quarterly goals and planned for future ones, did team-building activities, and shared a lot of laughs. When we returned home, we all felt we were refueled with new energy and super excited for a fast-paced autumn. Thank you, Copenhagen!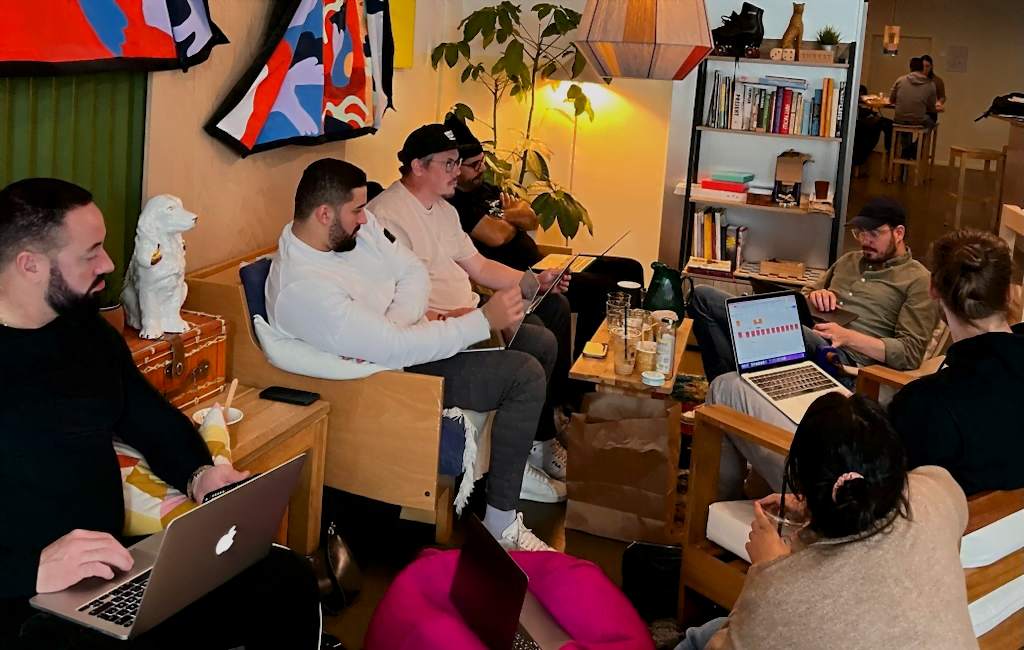 In November, after Black Friday, we invited our customers to a Black Friday survival AW to celebrate that we completed another busy Black Friday period. And WOW, what a night it was! We are incredibly grateful for our excellent partnerships and the common interest we share in digital communication, marketing, and customer benefit. This was our first partner event but NOT the last. We can promise that.
During 2022, we have offered many exciting and educational webinars that we have held with various partners of ours. The interest in the webinar is tremendous, and we believe the pandemic has helped increase it. People have gotten used to the digital world, partly to online meetings and various training. The webinar will continue to come in 2023, so rest assured! If there is a webinar you missed or want to see again from 2022, check it out!
In our last mailing, we presented a Christmas present to the entire market: At the turn of the year, we are launching Rule Free – a free version of our complete all-in-one platform. Now we are creating a new opportunity for everyone who wants to communicate, regardless of company size and cash flow.
Rule Free is for those who:
Has limited resources

Are start-up companies or organizations

Wants to grow, both in the short and long term

Want to compare Rule against their current systems
Be the first to discover Rule Free – sign up for our Pre Access here!
In conclusion, we would like to say:
Thank you, dear customers and partners, for a fantastic year! We are delighted that we have your trust and that you continue to use our platform and are so committed to it. NOW we feel ready to close the chapter of 2022, and we welcome the new year with open arms. 2023 – Here we come!
Do you want to get started with digital communication? Explore Rule for free for 30 days or contact us and we'll tell you more!