In window number one of the Rules Release Calendar, we find Preferences for e-mail. And what does that mean? Email preferences mean that you give your subscribers the choice to decide for themselves what type of email communication they want to receive from you, in addition to the ability to unsubscribe. It may be that a customer only wants to receive mailings from you that are about, for example, "offers" and nothing else. The various preferences that a company offers are listed on the page where customers end up when they click on the "unsubscribe" button in your mailing. With the help of email preferences, subscribers can easily opt out of the communication they don't want, instead of completely unsubscribing from your mailings.
More than just a page for unsubscriptions
A page for unsubscriptions confirms that you have chosen to no longer subscribe to, for example, a newsletter. On such a page, you can ask for feedback on why they have chosen to unsubscribe or also try to get the person to start subscribing again. This is usually the experience that companies deliver. By law, you must give the customer the opportunity to be able to unregister for future mailings and to have it this way, many companies experience is easier than setting up a landing page with preferences for emails.
But email preferences don't have to be complicated at all.
Reduce deregistrations by giving the customer a choice
The main advantage of preferences is that it helps you as a company to reduce the number of people who unsubscribe from your emails. If a member feels dissatisfied with the communication from you and the only choice you give them is to end the subscription to all your future communication, then that is also what the person will do. But if you instead offer more options and give the customer the option to receive communication from you that is only about something that actually interests them, the probability increases that your members stay and in this way you will get a committed customer base. It will thus lead to both more revenue and increased digital growth.
In addition to reducing the number of unsubscriptions, you also reduce the number of emails that are spam-marked. When emails are spam marked in your account, it also affects your overall deliverability, which is not at all positive. You can read more about deliverability here.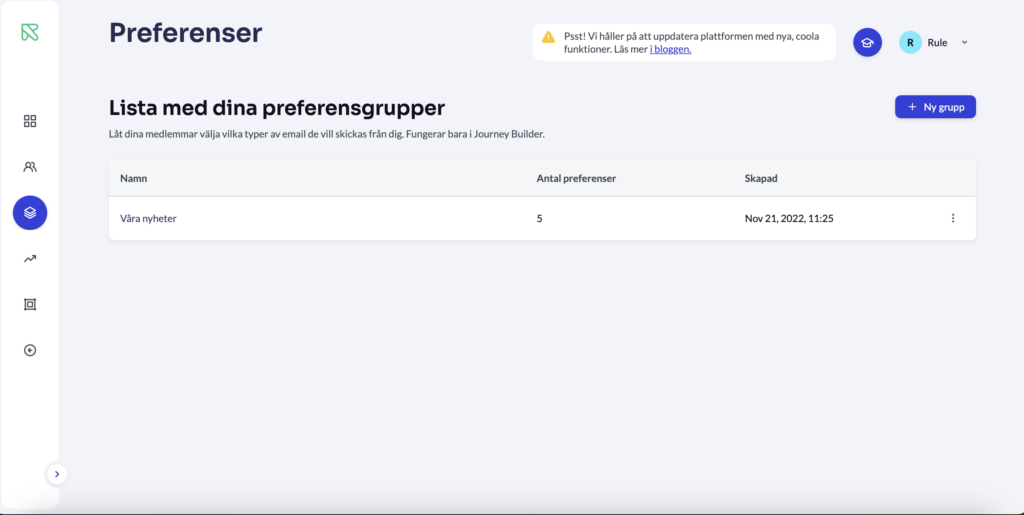 Show what type of mailings you're sending
With preferences for email, you have the opportunity to show your customers all the type of communication that you have to offer, because you can easily split your preferences into different "categories". If there is something that interests your recipients, they will certainly start subscribing to that particular mailing and then the recipient list will be further personalized. The preferences function in Rule is very customizable and you can set up many different types of preferences, such as different brands, areas of interest, destinations, etc.
This means that communication with your customers in the future will be more accurate and relevant, which in turn leads to increased trust and customer loyalty. Rules' function for preferences is also extremely GDPR secure, which means that no customers will accidentally receive communication that they have chosen not to receive.
Get important insights from the statistics on your preferences
Inside Rule you can see your preferences page and there you can also get statistics on how many subscriptions / deregistrations you have per preference. This means that you can easily see how many of your subscribers are interested in receiving communication from a certain type of "category", but also if there is a preference that unusually many have chosen to opt out of, chosen not to receive communication about. With the help of such an insight, you can in time discover what is missing in your communication, and then also improve it. On the other hand, if the number of members who have chosen to opt-in to a preference increases, it's an indication that the content delivered is very good.
Functions for the preferences
In the preferences settings, there is a function called Standard opt-in, which you, as an administrator, can use for those members who have yet to make any clear choice regarding their preferences. If you choose to tick the Standard opt-in box on your preference, all members who have not opted out of those preferences will be exposed to those mailings until the member himself chooses to end that subscription. This means that when you set the default opt-in, you should do it on a category that you think most of your members are interested in, for example, on preferences like "discounts" and "offers."
In the preview, you can see how the preferences page looks for your members; you can easily change the sorting order or the name of the preferences if you want. You can read more about it in our knowledge bank.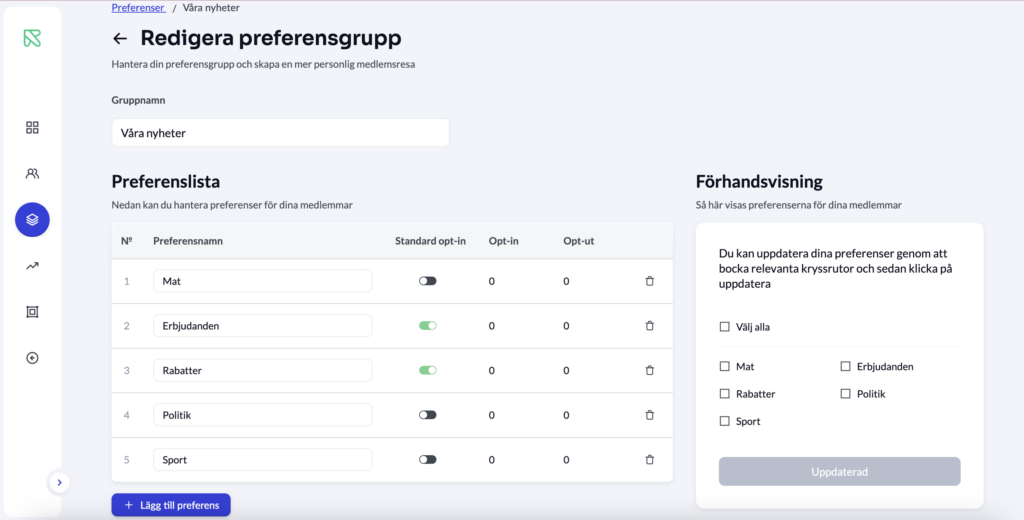 How to get started with email preferences
Setting up email preferences is something you can do yourself. Just follow the steps in the article on how to get started with email preferences that you will find in our knowledge bank, you'll also find the article here.
Want to get started with email preferences? Contact us and we'll tell you more about how to get started!