Black Friday is, as is well known, one of the busiest shopping periods of the year, and it will be crucial for your sales that your website and communication are ready to handle the increased traffic. By using automation(aka Marketing Automation), you save time and resources while delivering a personalized experience for your customers. In this article, we will go through 3 different automations we recommend setting up before Black Friday, what value they fill, and how you set them up. Come along!
If you want to read more about tips for your entire Black Friday strategy, you can do so here!
Unique welcome email for new subscribers during Black Friday
All digital communication needs a common thread during Black Friday. Already on the website, you can create a feeling of FOMO for potential customers and encourage them to sign up for your newsletter to receive unique offers during this busy period. Hopefully you will have some new customers compared to "normal" days, so it is important to welcome them to create a positive first impression.
You can use this opportunity to inform them about your upcoming Black Friday deals, opening hours and other relevant details that can help them plan their purchases. It also provides the opportunity to answer any questions or concerns they may have and offer customer support at an early stage.
In this guide, we describe step by step how to set up your welcome automation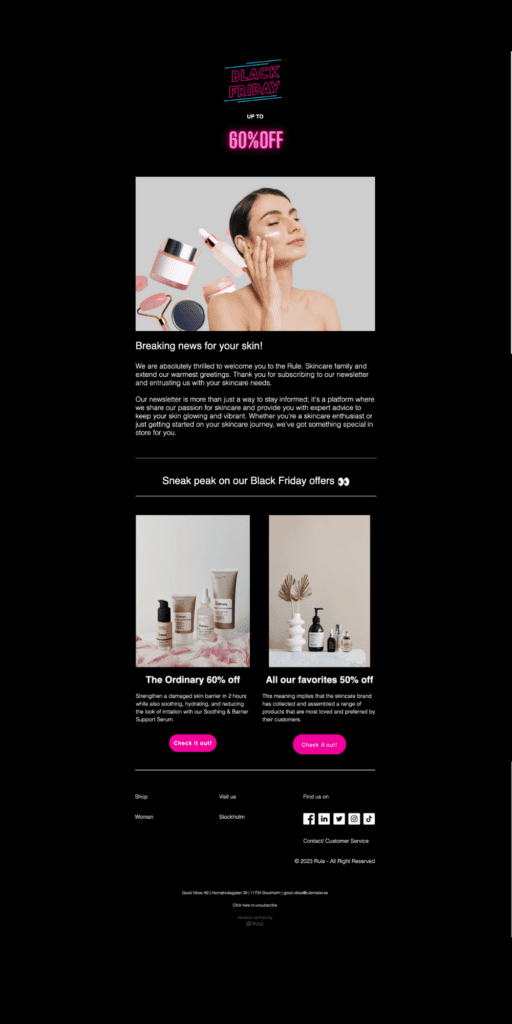 Catch abandoned carts with Cart abandonment mail.
Cart abandonment, abandoned cart or cart in progress – there are many names for it. According to one study, up to 70% of customers in 2023 their shopping baskets. This is a great opportunity to capture these, to recover lost revenue and increase conversion rates.
You can customize the message for an abandoned cart and include information about Black Friday deals, remind you of limited availability, or offer customer support if needed. This increases the chance of capturing the attention of customers and convincing them to return and make the purchase.
During Black Friday, we recommend triggering abandonment cart messages relatively closely after a customer abandons the cart. Partly because there is a lot of competition on this day, and partly because we still want the customer to sit at the computer or phone.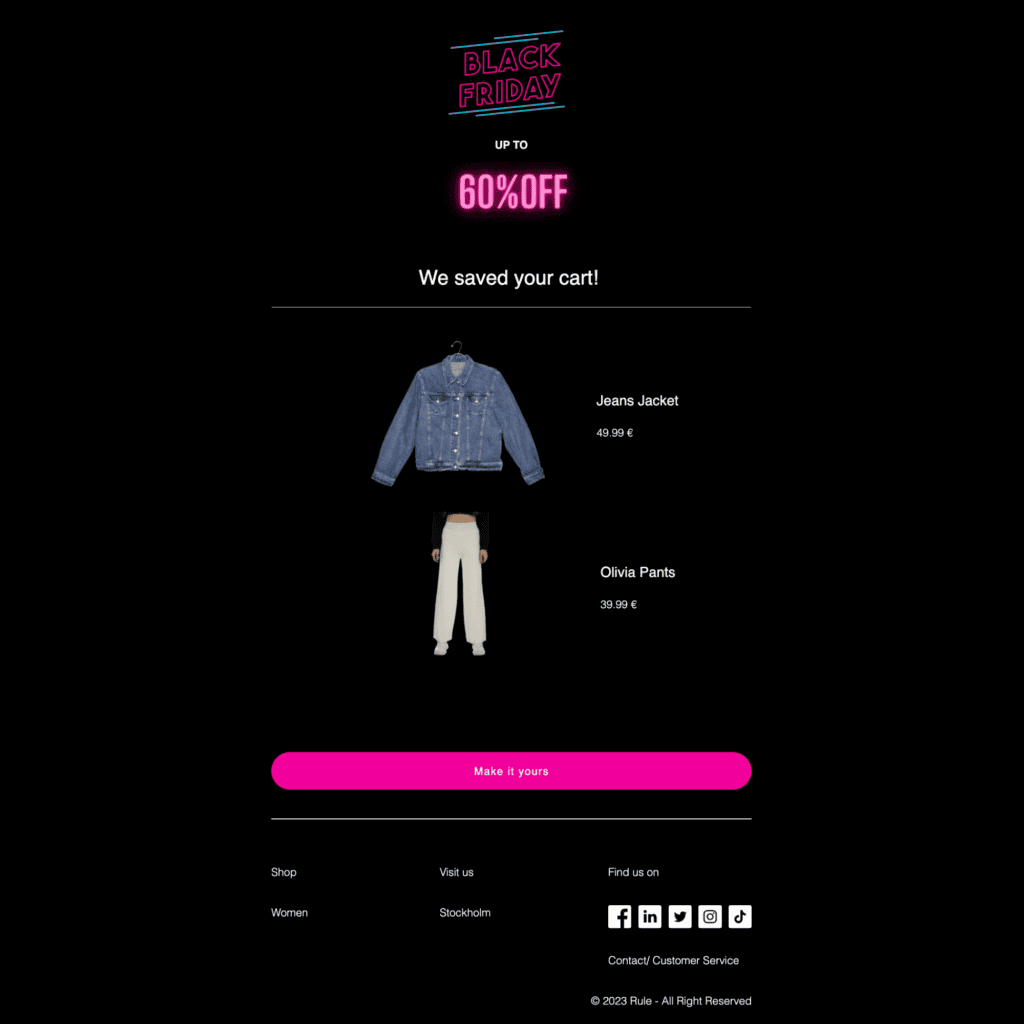 Last email of the day: Last chance!
During the last hour of the campaign day, you can communicate with the customers who have previously shown interest in your offers. Many customers wait until the last minute to make decisions about their purchases. By reminding them that this is their last chance to benefit from your offers, they are more likely to complete their purchase. Using words like "last chance" and "ending soon" creates a sense of urgency that can increase conversion rates. People often feel more inclined to act when they think they are at risk of losing an opportunity. Again, FOMO!
Tip: Segment out customers who have already made a purchase during the day.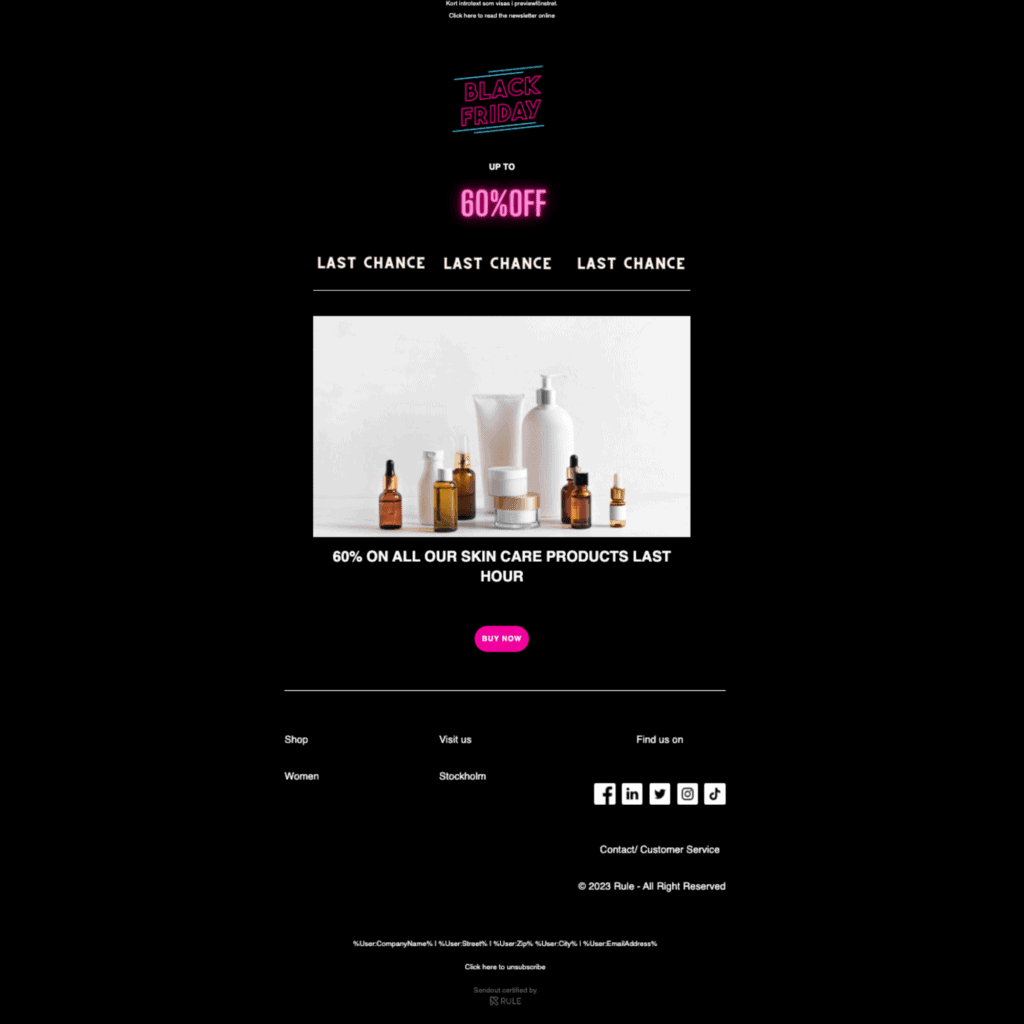 With these three automations in place, you increase your chances of success on Black Friday and maximize your sales. By taking advantage of the opportunities presented by these three mailings, you can build strong customer relationships, reduce basket abandonment and create an atmosphere of urgency that will help you achieve your Black Friday goals.
Need help with your Black Friday strategy? Do not hesitate to contact us. Don't have an account in Rule yet and want to get started with digital communication and email marketing? Explore our newsletter service free of charge, for an unlimited period of time.
Not enough and want more tips?
Read our other posts to get inspiration for your Black Friday strategy: