In the era of everything that is being digitized today, we want to highlight digital gift cards – the most appreciated emails of them all! Did you know that gift card holders shop on average for about 40% more than the value of the gift card at redemption? It also turns out that a large proportion of those who receive gift cards become new, remaining customers. This means that with the help of digital gift cards, you can both expand your customer base and increase your sales significantly! The customer is satisfied, you are satisfied. Now that is a win-win.
Why digital gift cards?
Customers love gift cards and gifts, that's a fact. Shopping for gifts online instead of in store is both better, cheaper and easier. It is also worth mentioning that people in general are actually happy to both receive gift cards, but also send them. So in addition to being a positive and expectant experience for both parties, gift cards also work as an excellent conversion tool that lets your current customers present your business to loved ones. This way, you can expand your customer base, while increasing revenue.
This is how IDEAL OF SWEDEN works with digital gift cards
Our successful customer IDEAL OF SWEDEN wanted to get started with digital gift cards through Rule. They saw a great opportunity to, through digital gift cards, be able to offer their customers to buy the "ideal gift" to a close friend. A digital gift card is set up as an automation in Rules Marketing Automation tool. Once you have set up the automation, it is then a process that takes care of itself. IDEAL OF SWEDEN has realized the value and benefits below, of having gift cards available on the website and digitizing and automating this process.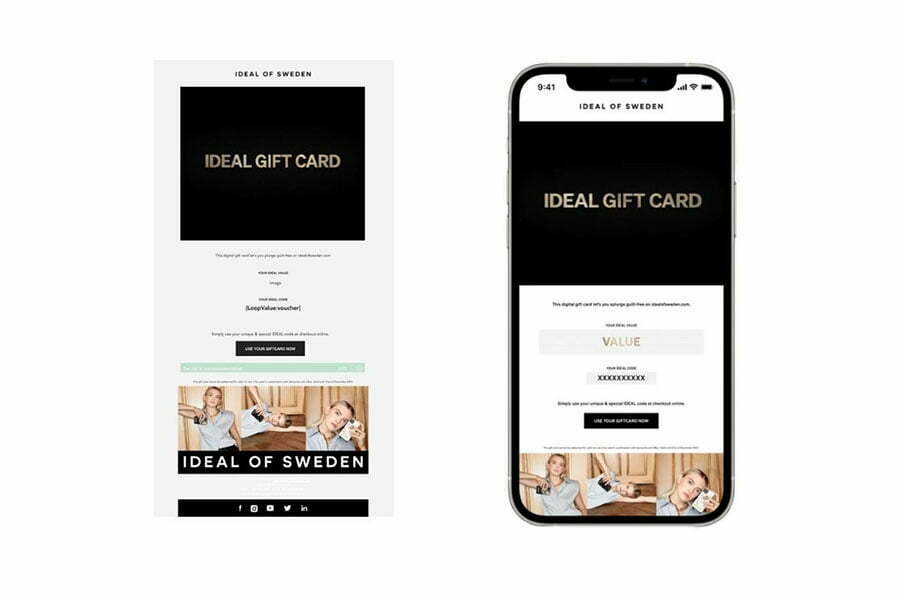 The benefits of digital gift cards


A digital gift card works just like a traditional gift card, which can be bought in a physical store. The buyer buys the gift card from your store and then decides the amount it will be loaded with. The digital gift card comes with a value code that you can easily redeem the gift card with and shop for in both physical and e-commerce stores. However, the benefits of a digital gift card are significantly greater than with the physical ones and below we have listed them:
Effective


The buyer can purchase the gift card directly through your website and have it delivered to anyone, at any time. If you have loved ones, employees or customers who are in another place, it is super efficient to send a gift to them as well. It is an incredibly simplified process where the customer administers the purchase and delivery itself, while Rules' system keeps a close eye on the numbers for you.
Personal connection


Digital gift cards come with the flexibility to be able to add more value to the customer's purchase. In Rule, we create templates for the gift card's design and appearance. Add a fun gif that exudes corporate identity or ask support for help to temporarily create, for example, a holiday-related template. This creates a brand awareness in the customer and a strong personal connection to your particular company.
Safe and accessible


The gift card is always available and with you, digitally in the mobile. A security is also that a digital gift card does not disappear by mistake and is also very difficult to copy or misuse.
Smooth


You as a company choose what your gift cards should contain and what they should look like. Your customers, in turn, freely choose what they want to buy, when and to whom it is to be delivered to, through which delivery method. The rest of the process is handled by the automated system in Rule.
Expand your customer base


In connection with a customer redeeming a gift card from you, you get a chance to give the gift card recipient a reason to stay with you as a customer and want to be part of your database. Many of the gift card recipients are completely new customers, with whom you now have the opportunity to make contact. All data collected from the recipients of the gift cards is registered and then stored in Rule through your e-commerce platform.
Total control over sales


One of the main advantages for you as a trader is that all statistics are registered automatically in Rule's system and you thus get total control over sales. You can see statistics on exactly how many gift cards were sold, to what value and to what specific target groups.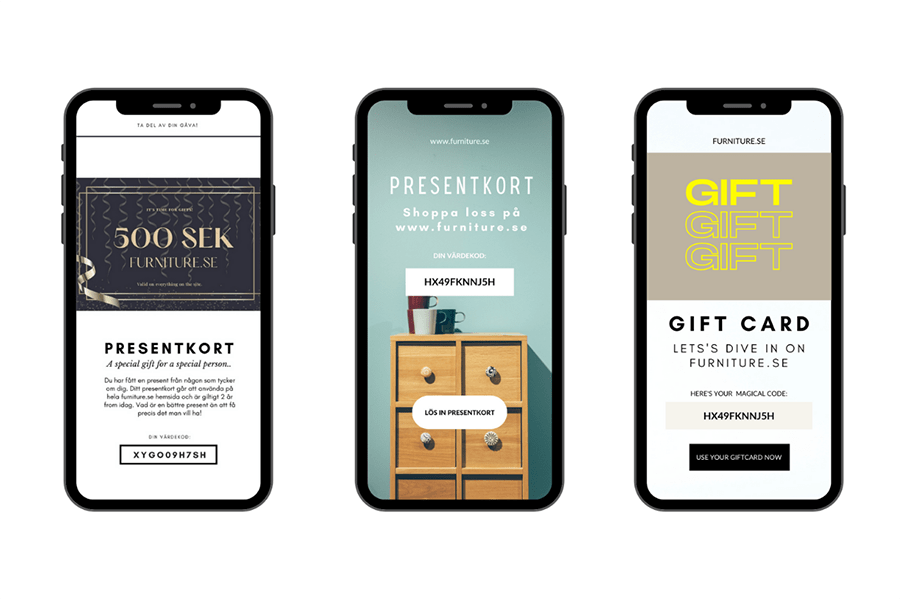 Save money – and on the environment


Finally, we must not forget perhaps the most important and most positive aspect of digital gift cards. It is, of course, about the environment. Understand the amount of plastic and paper your business can save by digitizing your marketing and, in this case, gift card. Not to mention the incredible costs you save on not having to pay for materials and prints. It is a simple and cost-effective way to make your company be perceived as innovative and environmentally conscious.
This year's Christmas present – to your loved ones


Based on the above-mentioned benefits that come with digital gift cards, IDEAL OF SWEDEN has now made it even easier for their customers to get the ideal gift in their e-commerce store. At the same time, they themselves have increased their conversion, customer base and sales. If a customer buys a gift card from your company to a close friend, it shows that the buyer has a strong trust in your brand and invites loved ones to experience it for themselves. With that said, now make sure you have digital gift cards, this year's Christmas present, available and ready for your customers to partake of on your e-commerce platform.