Christmas is just around the corner and Christmas shopping is in full swing. Have you thought about what to give to your loved ones this year? Maybe you want to avoid the Christmas stress and are considering donating money to charity instead or buying a charity gift to someone?
We at Rule have the honor of working with several charity organizations that work daily to make the world a better place. In this post, we will dive into what it can look like during big holidays like Christmas for some of our charity customers. How they work with their communication and marketing in the Rule platform and give tips on valuable charity Christmas presents that you can give away to loved ones or colleagues and employees.
Läkarmissionen about charity gifts that change the world
The aid organization Läkarmissionen has worked since 1958 to change the future for vulnerable people and for all people's right to a dignified life in a sustainable world. They carry out international development work and disaster relief in about forty countries. Through Rules platform, Läkarmissionen communicates with both potential and existing donors via SMS and email marketing. When a donor donates a gift to Läkarmissionen, the person automatically ends up in a welcome series of automations that are set up in Rule. In that loop, they are then informed about what their contribution goes to and are kept updated about the work that Läkarmissionen does. By maintaining a dialogue, they make sure not to lose donors and there is a good chance that these donors will donate again.
Every Christmas, Läkarmissionen informs about the charity Christmas gifts that change the world that they sell on their website. Here you can see Läkarmissionen's Christmas gifts.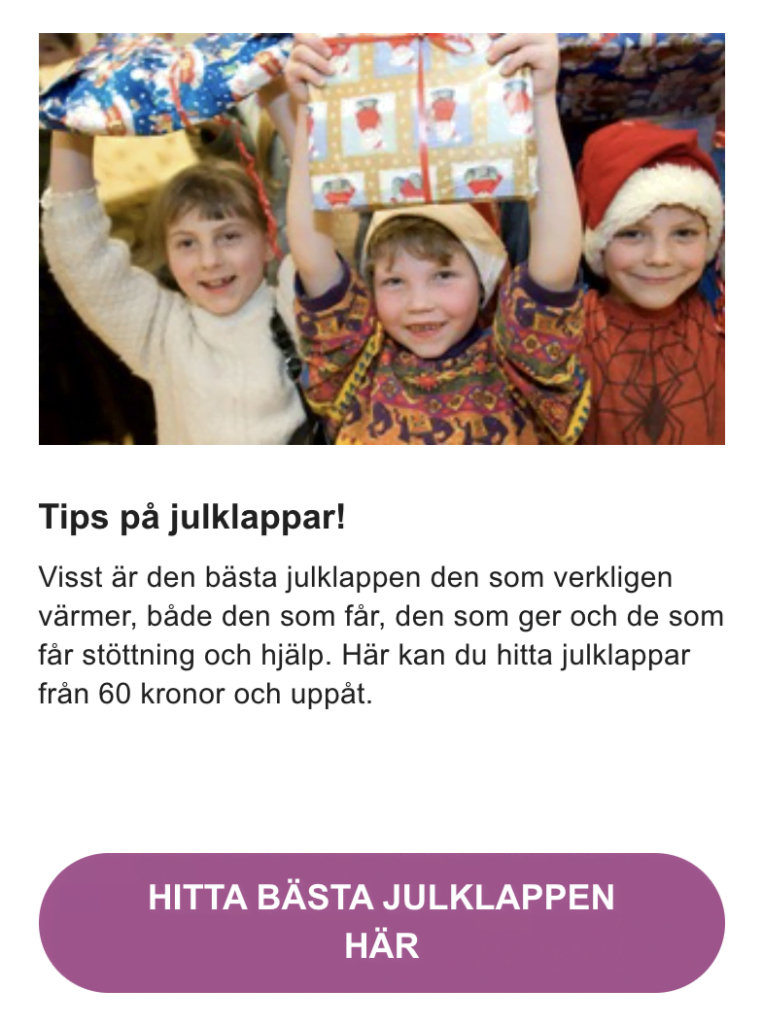 ActionAid - "Thank colleagues with a symbolic gift to charity"
ActionAid is a global rights organization that works to enable girls to grow up to be independent women, with the power to shape their own lives and the society they live in. ActionAid has been fighting for equality and justice every day since 1972 and is present in 46 countries today. Worldwide. During holidays such as Christmas or Father's Day, Actionaid sends out communication via Rule where they suggest meaningful gifts you can buy from them. They also market themselves to companies in various contexts, where they urge, for example, to "thank colleagues and employees for a good year with a symbolic gift" at the end of the year. To maintain communication with their donors and make them loyal, ActionAid has set up personal automation feeds in Journey Builder. Something we really want to highlight as ActionAid also does in Rule, is that they A/B test their mailings, so they can effectively find out which campaign is most successful and thus maximize engagement on their mailings.
Who do you want to give a meaningful gift to this Christmas? Check out ActionAid's charity shop for christmas here.

Grandpa x Suicide Zero – A vital offer
You don't have to be an organization to contribute to a better world. There are many ways to get involved, especially if you are an e-retailer who can spread an important message through your store and your channels. Our customer Grandpa is an exemplary example of how to proceed. In connection with Black Friday and the Christmas shopping this year, the e-commerce store Grandpa sells cloth bags where 100% of sales goes to the non-profit organization Suicide Zero, which works to radically reduce suicides in Sweden. An effort like this not only does good for the purpose, but also for your brand. You build trust in your brand and people will continue to associate your business with humanity and respect.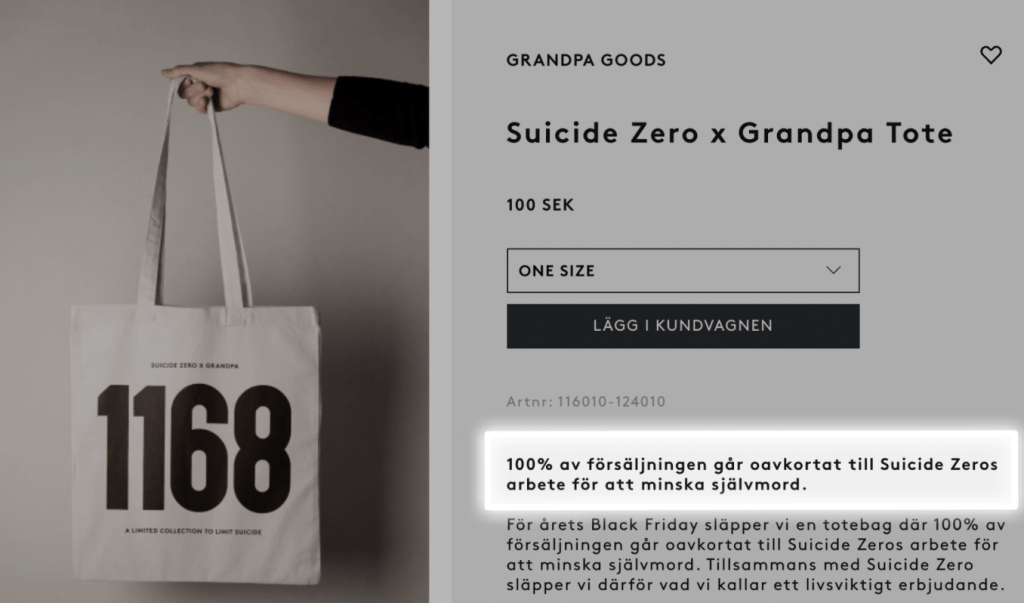 Charity Christmas gifts - take the chance to change lives
Christmas should be about love, joy and warmth. Then it's of course up to everyone how to interpret it and how to choose to celebrate Christmas. According to tradition, most people give and receive Christmas presents during Christmas and it often happens that many of these Christmas presents are completely meaningless after a while, as these are things that you don't necessarily need. Therefore, it can be good to stop for a second and think about your Christmas presents carefully, both the ones you want and the ones you intend to give away. The last two years have also been fraught with a protracted pandemic that has taken extra hard on those who are already vulnerable, so a little extra care may really be needed in these times. That's why we now want to highlight our fantastic charity customers during Christmas, who sell Christmas presents where you have the opportunity to be involved and change lives.
Do you also want to get started with digital communication and marketing? Explore Rule for free for 30 days or contact us and we'll tell you more about how to get started!